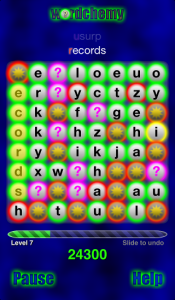 Wordchemy is an innovative letter-swapping word game for iPhone, iPad, and iPod Touch. Swap adjacent letters to form words and score points. Set up longer words to create special tiles, but watch out: unless you form a word, you can only swap each letter once!
Combining swap-to-match mechanics with wordsearch action, Wordchemy is a unique and challenging experience. Generate special tiles with strategic swaps and then use those tiles to form longer words. Transform wildcard "mimic letters" to complete words, and detonate volatile tiles to get rid of unwanted letters. Wordchemy's special tile system and multi-swap gameplay are perfect for gamers interested in a challenge, and the infinite, no-pressure levels in Free mode make the game fun for casual mobile users as well.
Wordchemy includes 3 special tiles, each with unique functions. Form long words and set up combos to reach the highest score.
Features:
Randomly generated letters: Never see the same board twice!
3 special tiles with unique functions
GameCenter high scores
Optimized for Retina display
Looks great on iPhone 5's screen
Twitter and Facebook integration lets you share your scores with friends
Customizable wordlist (available with in-app purchase)
Universal app! Works with iPhone, iPad, and iPod touch
Requires iOS 4.3 or later